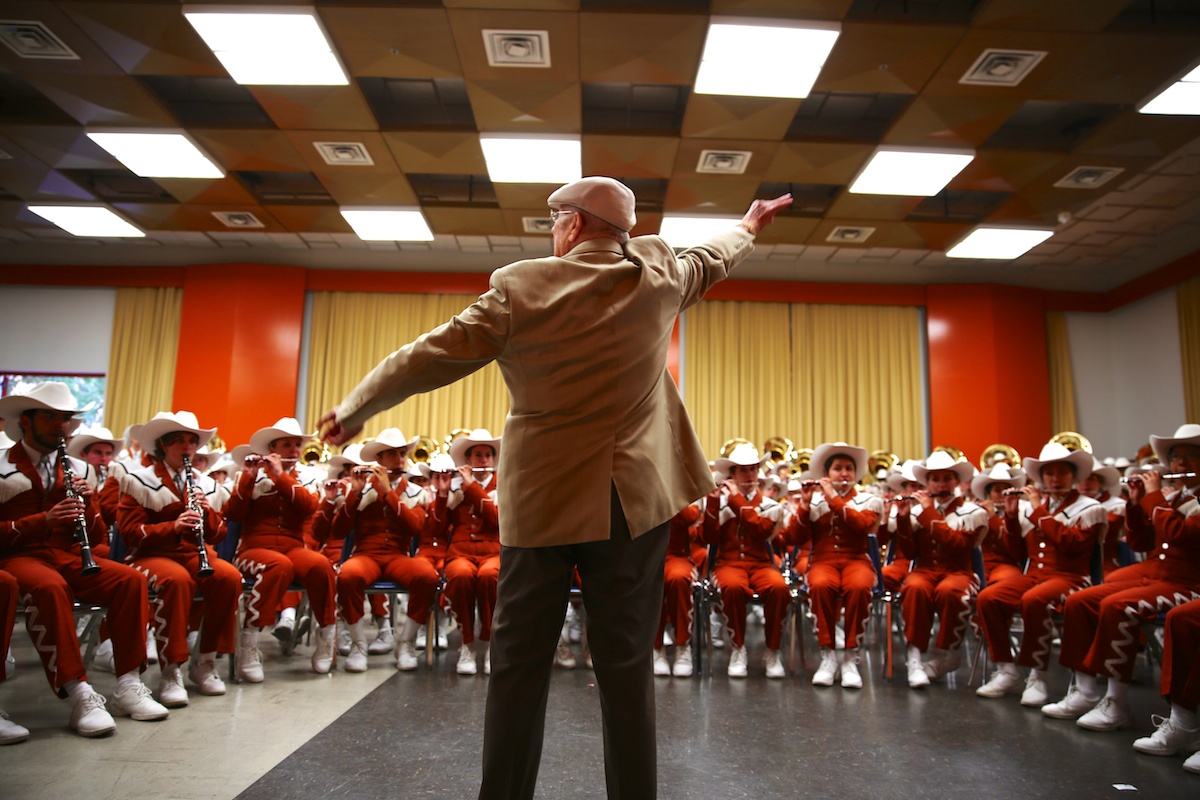 I am saddened to hear that Mr. Vincent R. DiNino, one of the most iconic directors of the Longhorn Band, has passed away.
I remember meeting Mr. DiNino for the first time in LHB when I was a freshman. He'd get up on the podium in the band hall, look around, and get ready to conduct the Eyes of Texas. He would conduct it with such passion, such enthusiasm, and such energy; something you would normally never see in someone in his early 90s! The guy standing next to me in band afterwards would tell me to "never forget this moment, because it's one of the greatest moments you'll ever live when in Longhorn Band."  That certainly couldn't have been any truer. It was a treat when he would conduct the very band that he helped shape for twenty years, from 1955-1975. Afterwards, he would always talk and say how wonderful we were, how happy he was to be there, and always wished us the best of luck. He would always include his Italian-like kiss gesture to give his blessings to everyone.I recall a very specific memory with him in my junior year. After halftime, we had all started heading up into the stands to set up for the next half of the game. As I walked by, I saw Mr. DiNino and he was looking at me. He then proceeded to say, "Your section sounds really good, you're the section leader right?" I laughed and told him thanks, but there was another guy who was the section leader; the guy who stood next to me. He laughed and said we had similar facial hair and couldn't tell. He then patted my back and told me to keep it up.  We proceeded to have a few more moments like this.It was this kind of personality that DiNino had where he was completely friendly to everyone: directors, students, and complete strangers! I loved his personality and how friendly he always was. I never saw him angry or tired of always being at games, because he always enjoyed watching us, and we always enjoyed his company.From my first game to the last one, any time Mr. DiNino got up on the podium to conduct the Eyes of Texas, it was so wonderful and inspiring to watch. You would get chills watching him conduct. His unique conducting style and his trademark hat contributed to his zestful personality. His advice for playing at games would always be the same:
"Play to the top of the stadium!"
It was a joy seeing him touch so many lives in Longhorn Band, and I am blessed to have had the opportunity to have him conduct us in the four years I was in college. Heaven has received a wonderful, humble, and spirited man today.To wrap this up, this is a video of one of my favorite memories in my first year of band. One of the game days happened to be on his birthday, and it was his turn to conduct the Eyes of Texas. Little did he know that we had a surprise waiting for him!